Step out for a movie and I miss all the fun. I'm loathe to admit when I'm feeling overwhelmed. But I am. Onward, as tradition dictates:
So, a broken monitor of some sort and the circuit from the second email. I have some ideas, but I have to come back to this later. 
Confirmation that we, as a whole, will be attempting to break a Guinness World Record. In case you might have missed (I don't think I've included this bit), Misha linked to a poorly censored document recently. 
I've gone back several times to review the questionably humane conditions Tiffany is being kept in, but I've never been able to make our what she's saying. Clearly, this needs (another) re-visit.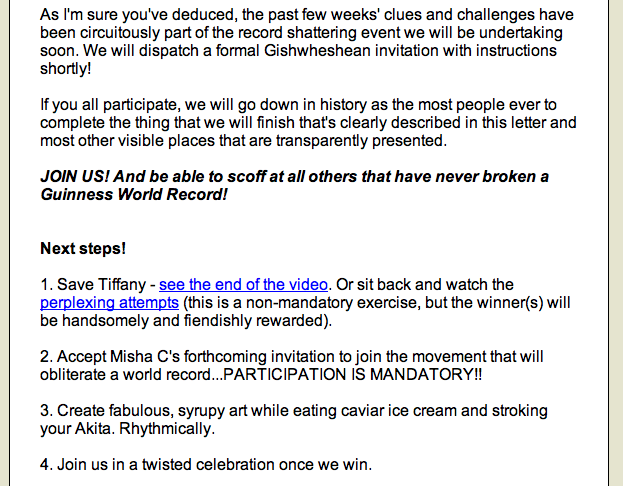 Saving Tiffany is NOT mandatory. Participation in the Guinness attempt is compulsory. And a website example! I will assume that this is not one of JL's or Misha's, but rather JL's favorite example of entries received so far. I can't say who the site belongs to; I'm only guessing. But I like it. The content presented makes me feel like I've been on the right track with my own brainstorming.
But we are still building our own sites, right? I'm unsure now, but will assume we still have until Boss Day as previously stated.
Art! I'm excited. Even if I don't have an Akita. And a "twisted celebration." Oh, JL.
Those are oddly specific file requirements. My initial reaction is that these are arbitrary numbers - more of JL being the JL we know and sometimes love - but there's always the possibility that something (coordinates? phone numbers?) are hidden away in these kinds of things.
Tempting though it is, I don't think I'll be applying for the position. I've been a P.A. before, for a very lovely employer, but I don't think I'll be going that road again any time soon. I can levitate though, which is a pretty nifty trick. And I know that my URL is spelled incorrectly, but I think I'm in too deep to change it now.