No more radio silence! I've been a bit busy, but I'm thrilled to see more GISHWHES coming our way. I'm a couple of tweets behind, I know, but want to get into the bread and butter. Other posts will be updated soon.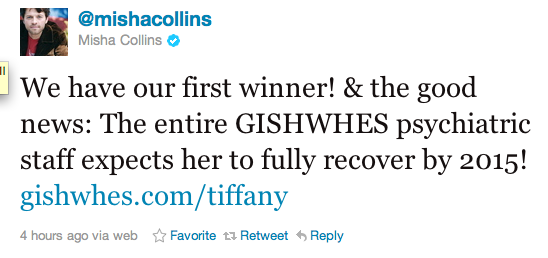 Tiffany, the person with the correct answer, has received her on page on GISHWHES site — as well as a not-so-shiny new (maybe) straight jacket. 
And a cross-tweet by JL:
(I'd like to offer Tiffany my sincerest congratulations, and also wish her a very speedy recovery. That straight jacket looks terribly uncomfortable.)
But you guys. YOU GUYS. Look at this:
That link? Guess where it goes? Here! Well, the @MissJeanLouis post. I flailed. I did. 
Okay. I'm done. On to the important part: the new challenge.
The challenge, listed at the end of Tiffany's vaguely disturbing video, is to build a website explaining what GISHWHES is. I know how daunting that can be, but it's not impossible. Necessity is the mother of invention.
The list, paraphrased, because I scribbled my notes:
You should include:

staff bios and pictures
location
national flag
secret password
battle cry
function
symbology
artefacts
colors and shapes
vices
nemeses
parlor tricks
future

These are a no-no:

child pornography
cruelty to animals
desecration of graves
mentioning scavenger hunts 
gluten
aspartame (the stuff they put in diet soda)
images of one-term presidents
furry whiffle balls
florescent hammers
Iceland 
You have until October 16th, Russian time. Links should be sent via email to JL.
Use your resources! Blogs, tweets, communities, your ouija board, Google. There are several free web-building resources available. Explore your options! Check the #gishwhes tag wherever you stop online. Tumblr, Twitter, Livejournal, everywhere. 
I'm so excited for this part! I'm can't be alone, right?