Ohh, look! Just when I thought I wouldn't have anything to do tonight.
Well, this is interesting, and there's SO MUCH to look at. Let's dive right in and work our way down.
I don't know a thing about circuits. But my brother does. I showed him the image and asked what he thought. To simplify and paraphrase:
"It's a diagram, but it's wrong. It creates an infinite loop. They might be volt meters, but there's no power source either."
Okay. With JL's recent mentions of art and death, along with the recent painting she tweeted, I'm seeing the beginnings of patterns relating to duality, but this is a half-formed thought.
Opening the image in a new tab leads you here. Google Search By Image takes you here. The article is about Fibonacci (the Golden Ration guy) and the "magic number" 432, sometimes called Nature's number. The image is attached as a file at the bottom of the article. It is to be noted that 4 + 3 + 2 = 9. Remember that episode of Schoolhouse Rock?
Joseph Campbell (THE face of contemporary mythology analysis) talked about this. The following quote came up here:
"… This number was seen in different cultures throughout history, the only relationship being an innate commonality within the mind. Campbell explained this phenomenon as a 'collective' archetype, an inherent aspect within the human psyche, as well as nature as a whole."
Now we're dealing in archetypes. Another quote from Campbell, that I feel is especially in-sync with the vibe I get from GISHWHES — this is purely subjective, though.
"People say that what we're all seeking is a meaning for life. I think that what we're seeking is an experience of being alive, so that our life experiences on the purely physical plane will have resonances within our own innermost reality, so that we actually feel the rapture of being alive."
A couple of other sites I came across in looking into 432 that I'm on the fence about concerning their relevance: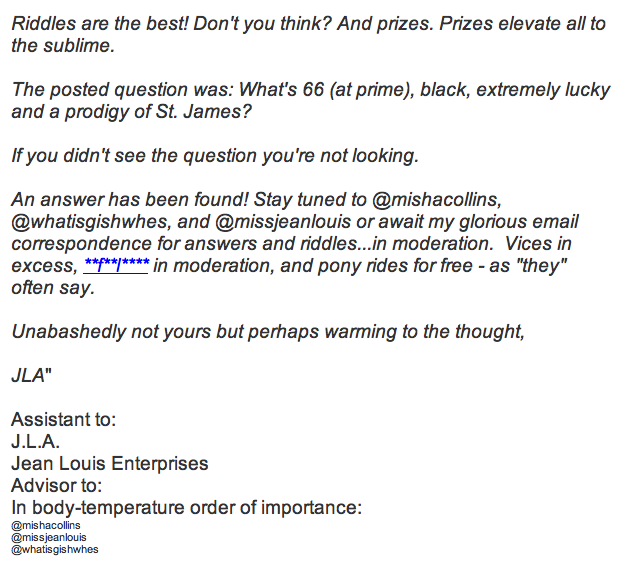 There will be riddles. And prizes. But I'm hesitant to send an email off to JL as her phrasing, above, seems to indicate that we are to wait to be contacted. As there was no direct indication of a riddle included in this email, I get the impression we're meant to play around with the clues dropped for us
I'm not sure what "**f**l****" is, but the phrase "Virtues in excess, vices in moderation" could easily be subverted for the hedonistically inclined. Jean Louis. I need more time to think on that part. "**f**l****" links you to an eBay page with an antique cash register going for $3million USD. The eBay seller's store is called Time Travelers Collection. It should be noted that the dollar amount ON the register itself is 9 dollars.
This footer could be nothing. To me, it looks like a stark cigarette. I didn't see a file name or hidden text — but I'm sure I'll give it another go, just in case.
Other, smaller things I haven't gotten to or didn't feel were super important:
YES, somebody found the correct answer to "66, prime…"
The letter is forwarded "Per Jean-Louis's request," indicating that there may be a new player, an assistant to "J.L.A."
That means JL has a last name. Still looking in this. Why do I get the feeling JLA is an historical figure? 
The stressing of patience, as we're nowhere near our official date. 
That's all I have for now, as I've just sprinted through this post for fear of forgetting something. Updates to come, as always.
Edit: 14 September
"Vices in excess, **f**l**** in moderation, and pony rides for free - as "they" often say."
The cash register is listed as "Vintage National Cash Register Decorative Art #842."  In the description no specific information is given about the piece's origin, only a vague outline of a few places it has been, measurements and a seller with a terrible grasp of english asking for an inane amount of money.
(I did see, somewhere, that there's a Google doc floating around, looking for patterns in the text, but I can't find it.)
So, who is going to pay three million dollars for a cash register? What does it have to do with GISHWHES? The only assurance we have is at the bottom of the description, it says "There is a reason it is so valuable." A site-wide search of "vintage national cash register" turns up 45 results. Sort by price. Our #842 is, of course, on top. The next most expensive? Just shy of $1400 + shipping. Others found off-site can run upwards of 10,000 USD, but they're completely restored.
My personal opinion is that if this piece were worth that much, it would be sitting in an auction house or  museum. Not to say that ridiculously expensive things haven't sold on eBay before, but I'm quite sure they'd be a bit more… believable? The absurd cost-without-reason (is the seller expecting blind faith from their buyers? is that what we're supposed to get from this?) is too much to take seriously.
So with all that aside, the thing I keep coming back to is that the piece is listed as art rather than antique, both in the listing's title as well as "… for the wealthy this is perfect for jewelry box, piggy bank, home art…" That we're being directed to another piece of debatable art seems to be very Jean-like. 
I keep coming back around to the art-death-controversey-conversation thing I circled around in the Themes post, and I feel like this is all just a prelude to the main event. I've just hit a wall, but I think I'll try tackling the last line of the email next.