I'm exhausted right now, but this is the last post I want to get up tonight before I go to bed. So today, we got this: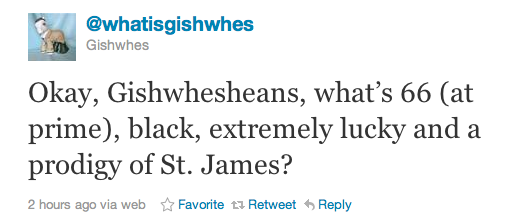 … I have no clue right now. I think there was something about St. James and the Golden Legend or Golden Legion, but I'm not sure. Bedtime for now. I'll revisit and edit-to-add tomorrow when I'm not so dizzy-eyed.
Edit: 13 September
So as both Jean Louis and @whatisgishwhes both confirmed, somebody has figured this one out. They both also mentioned following the rules, and expressed vague surprise as the speed at which an answer was produced.
I saw one theory that the wine Jean mentioned being the answer — which I have to disagree with — but also "Blind Tom," which makes more sense. I came across a good, concise explanation of how Blind Tom fits, but I've lost it now.
Nope, found it:

And earlier, as they also mentioned over on decoding-gishwhes, Jean Louis linked a tweet to a Tommy Hilfiger fashion show and called it both an "abomination" and "fashion shrapnel." Blind Tommy Hilfiger?
I can't see how any of this fits in, but I think we're expecting another clue soon.