@whatisgishwhes began tweeting on 10 September. This is the account referenced on the official GISHWHES page.
Nothing telling. Just a link. Easy enough.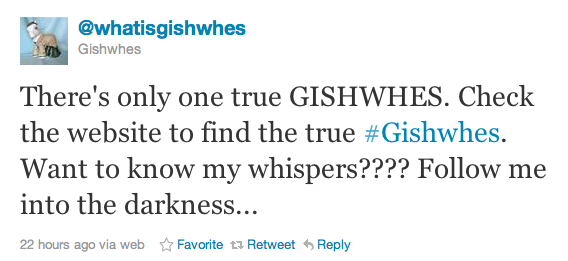 The above is, I believe, an indirect response to @gishwhes, the Twitter with the largest number of followers. Misha later called out @gishwhes as an impostor, at which point the owner of said account came clean. Maybe I'll touch on that in another post.
"Want to know my whispers????" is a clear reference to the initial video. I'm assuming, for now, that this means the whispers will be decoded for us eventually, but we've been given a bit of a head start.
And then, radio silence for about a day, until…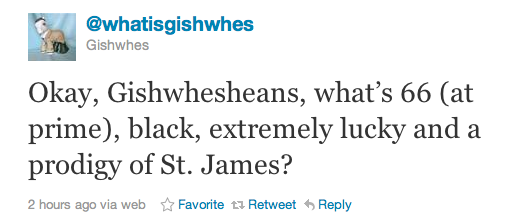 Offhand, I have no clue what this means — which I'm sure is the point. I'll revisit this once I'm all caught up, as this is the most straight forward of our clues so far.
Edit: 13 September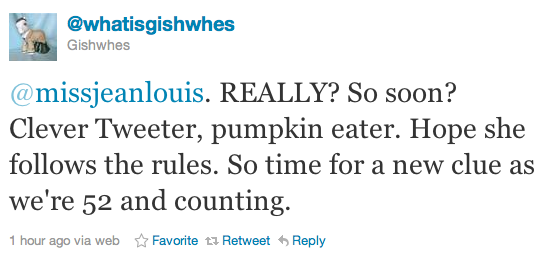 So while I was off doodling, somebody must have figured it out. I haven't actually gone looking around for that just yet. I'll get to it after I finish up here and start on the First Clue post. And Gish is surprised it happened so quickly.
And again, another reference to rules. Okay. Like horror movies rules? Like Bro Code? Clearly, these rules will become more integral to the game (experiment, movement… I'm not sure which word is most apt just yet).
Edit: September 14
Straight-forward. Confirmation. Look out for a new riddle. Keep looking.
Edit: October 8th
More on Tiffany. Should have been included here, with the other tweets regarding Tiffany's… commitment.